I'm baaaaaaaa-aaaack! :) Sausage is completely healthy, they found no problems whatsoever, although the pint and a half of orange juice I had before the scan certainly worked well - Sausage didn't stop moving at all during the scan, the sonographer had trouble checking the spine and heart!
Just to draw out your suspense some more, I'll add some of the pictures we got to take home with us! :) We DID get to find out the sex, and you will find out by the time you finish reading this entry!
First off, she took a LOT of pictures of Sausage sucking his/her thumb (teehee, I'm so not going to give it away just yet!), or general profile shots, so I'll add these first - and ooh Sausage looks soo cute... especially in this first one - thumb firmly in mouth!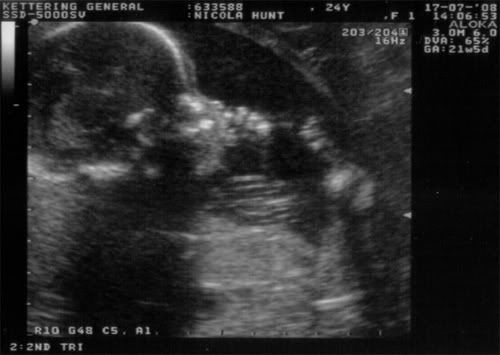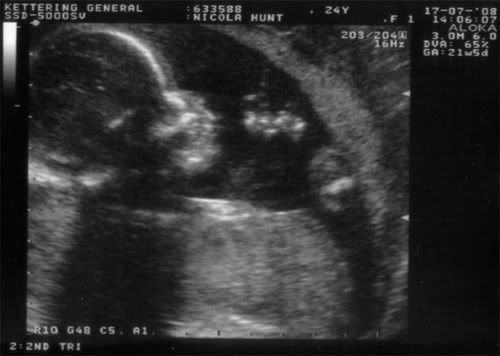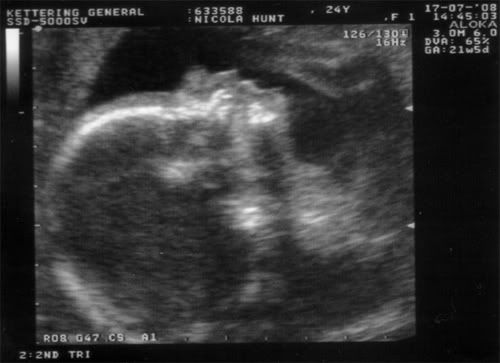 We also have a picture of one of Sausage's arms and legs..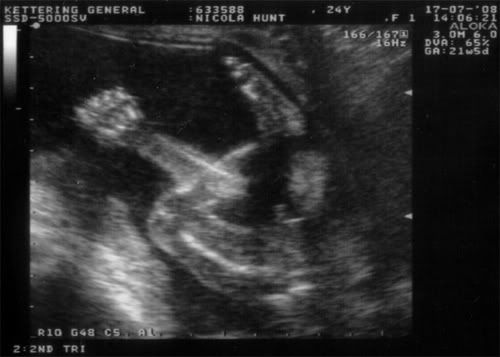 We did get a photo of what appeared to be just one of Sausage's arms - with what looked like the head just behind, but it wasn't very interesting as it just looked like an arm, so we left it out.
But yeah, she spent ages checking the various things, but we got our "inbetween the legs" shot fairly soon after she started...
That's right, it's a boy!!! We have our Robert Stephen!
Right at the beginning of the scan, we got such a nice view of his face, and we even saw his mouth opening and closing! And not long after, he found his thumb hehe.
Anyway, since you've all been dying for this entry, I'll post it now! Pictures took longer than expected to get uploaded and resized etc, which is why it's so late. But enjoy! :) And yay, I am really happy!